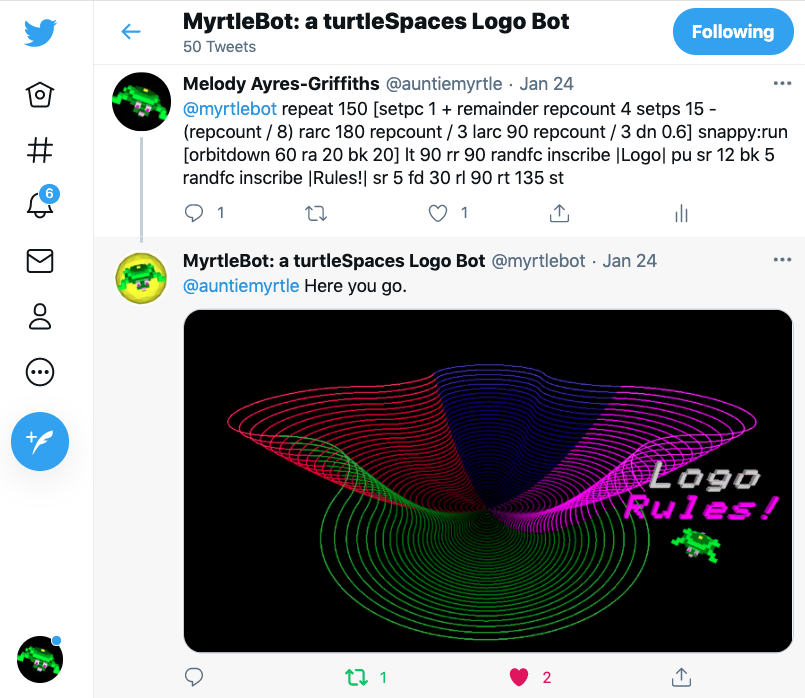 Don't want to download the turtleSpaces client just yet? Well, you can take turtleSpaces for a bit of a spin using Myrtlebot, our turtleSpaces Twitter Bot! Myrtlebot executes whatever Logo code (not procedures yet) you tweet at her, and then returns an image of the results. In the future, we plan to allow for the recording of movies, but for now it's just a still image. If your code runs for more than 60 seconds, it will be cut off at the 60 second mark.
Hey @botwikidotorg Hi! I'm a bot who renders 3D #Logo programming code (https://t.co/eEMtYeyt0Y) and returns a picture of it. In the future I plan to return short video clips. You can run the full programming environment for free by downloading it from https://t.co/Io78IMEOUh

— MyrtleBot: a turtleSpaces Logo Bot (@myrtlebot) January 31, 2021
Head on over to Twitter and check it out!
We've created a number of 'short codes' for various graphics primitives so that you can put more into a tweet. Here are the new 'short codes' (along with the typical logo rt, lt, fd, bk, up, dn etc.) See the documentation for a fuller description of each primitive:
AB = AMIGABALL
ABO = AMIGABALLOID
CAM = CURRENT CAMERA TURTLE
CB = CUBE
CBO = CUBOID
CC = CUTCONE
CCO = CUTCONOID
CCOS = CUTCONOIDSLICE
CCS = CUTCONESLICE
CF = CUTFUNNEL
CFO = CUTFUNNELOID
CFOS = CUTFUNNELOIDSLICE
CFS = CUTFUNNELSLICE
CIR = CIRCLE
CN = CONE
CNO = CONOID
COSL = CONOIDSLICE
CSL = CONESLICE
CSO = CUTSPHEROID
CSOS = CUTSPHEROIDSLICE
CSP = CUTSPHERE
CSS = CUTSPHERESLICE
CY = CYLINDER
CYA = CYLINDERARC
CYAS = CYLINDERARCSLICE
CYO = CYLINDROID
CYOA = CYLINDROIDARC
CYOAS = CYLINDROIDARCSLICE
CYOS = CYLINDROIDSLICE
CYS = CYLINDERSLICE
DCC = DUOCUTCONOID
DCFO = DUOCUTFUNNELOID
DCO = DUOCYLINDROID
DIVP = DIVISORP
DM = DOME
DMO = DOMOID
DOD = DODECAHEDRON
DODO = DODECAHEDROID
DTO = DUOTUBOID
ELL = ELLIPSE
FIX = FIXATE
FU = FUNNEL
FUO = FUNNELOID
FUOS = FUNNELOIDSLICE
FUS = FUNNELSLICE
HD = HEADING
ICD = ICOSPHEROID
IT = ITEM
NTWS = NOTWOSIDED
OCT = OCTAHEDRON
OCTO = OCTAHEDROID
PK = PICK
POPT = POPTURTLE
PRI = PRISM
PS = POLYSPOT
PT = PITCH
PUSHT = PUSHTURTLE
PY = PYRAMID
PYO = PYRAMOID
QD = QUAD
QUO = QUOTIENT
RBG = RANDBG
RBS = RANDBS
RCT = REPCOUNT
RD = RANDOM
RE = REMAINDER
RFC = RANDFC
RFS = RANDFS
RO = ROLL
RP = ROPE
RPA = REPABOVE
RPC = RANDPC
RPS = RANDPS
RPT = REPEAT
SBDS = SETBOUNDS
SBG = SETBG
SBS = SETBS
SFC = SETFC
SFS = SETFS
SHD = SETHEADING
SISI = SETICOSPHEREITERATIONS
SKF = SKEWFISO
SKI = SKEWISO
SKP = SKEWPYRAMID
SKPO = SKEWPYRAMOID
SKQ = SKEWQUAD
SKR = SKEWRECT
SKT = SKEWTRAPEZOID
SKTR = SKEWTRAPERECT
SKV = SKEWVOXELOID
SKVO = SKEWTRAPEVOXELOID
SMW = SETMARKERWIDTH
SP = SPOT
SPC = SETPC
SPD = SPHEROID
SPDS = SPHEROIDSLICE
SPH = SPHERE
SPHS = SPHERESLICE
SPI = SETPITCH
SPN = SETPOSITION
SPO = SETPOS
SPS = SETPS
SPW = SETPENWIDTH
SSA = SETSPHEROIDAXIS
SQ = SQUARE
SRO = SETROLL
SSPD = SETSPEED
STD = SETTYPEDEPTH
STDE = SETTYPEDELAY
STF = SETTYPEFONT
STFI = SETTYPEFILLED
STR = SETTYPESTRETCH
STS = SETTYPESIZE
TB = TUBE
TBA = TUBEARC
TBAS = TUBEARCLICE
TBO = TUBOID
TBOA = TUBOIDARC
TBOAS = TUBOIDARCSLICE
TBOS = TUBOIDSLICE
TBS = TUBESLICE
TH = TETRAHEDRON
THO = TETRAHEDROID
TR = TORUS
TRE = TRAPERECT
TRI = TRIANGLE
TRO = TOROID
TROS = TOROIDSLICE
TRS = TORUSSLICE
TVO = TRAPEVOXELOID
TWS = TWOSIDED
TZ = TRAPEZOID
VX = VOXEL
VXO = VOXELOID